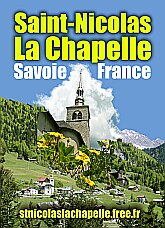 "You can only expect the best from a village that bears the name of Santa-Claus".
A peaceful community in the French Alps

Saint Nicolas La Chapelle is a balcony facing the Mont Blanc, and a lovely village which welcomes every year a number of privileged visitors, skiers, hikers, art lovers hunting for baroque (our church is a must).
We are not a typical ski resort. In fact we are not a ski resort at all. But we offer a peaceful stay in two family sized hotels 3 miles from Flumet, Megeve, Notre Dame de Bellecombe, Les Saisies, which are all ski resorts - some of them internationally known. Plus a number of bed and breakfast accomodations in all seasons.
Chamonix 40 minutes, Annecy 40 minutes, Geneva International airport 60 minutes (mostly freeway).
Summer or winter, you will experience in Saint Nicolas mountain wilderness, vivid colors, fresh and pure air, centuries of history and tradition. It's all up here, it's been here for long, now it is here for you.
Come and visit.
And be happy as we are.